How to change signature text color in Free Fire, Complete Guide
One of the most popular battles royale games for mobile devices is Garena Free Fire. There is a tonne of gamers in the game from all around the world. It was the worldwide mobile game with the most downloads back in 2019. It saw the game win the Google Play Store's "Best Popular Vote Game" honour. In addition to creating amazing gameplay, the developer is renowned for providing gamers with several updates.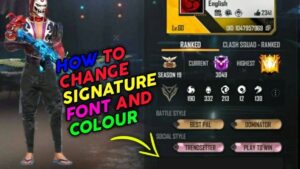 Users of Free Fire have access to a variety of customization options that they can use to enhance the look of their profiles. One of them is "Signatures," which may be modified by adding a word, phrase, or other text. typically appear underneath the social and combat styles whenever someone visits their profile.
Change FF Max Signature Colour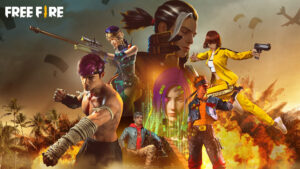 This is a step-by-step guide on how to change the colour of your Free Fire Max signature and utilise colourful signatures in FF MAX. The signature feature was included in the OB26 update, which was made available on February 4, 2021. Players get 50 characters to write anything they want in Free Fire. By default, Free Fire MAX has a plain white appearance, but by following this tutorial, we may modify the text colour and add a colourful signature. You don't need to pay any money or diamonds to alter the FF Max signature colour because it is entirely free.
Step 1: To access their profile section, players must first start Free Fire and then touch the banner in the top-left corner.
Step 2: Users must then click the "Edit" icon.
Step 3: The "Player Info" dialogue box will show up.  They will then need to select "Signature" from the menu.
Step 4: users can add the hex code for the chosen colour before signing their name in Free Fire. For the colour red, they may input the code "FF0000."
Step 5: They can press the OK button to confirm their actions at this point. There will be a change to the colour of their signature.
Free Fire: 5 Beginner Tips
1. Change Controls For Convenience
Free Fire gives users the ability to rearrange the screen's elements any way they see fit, placing buttons exactly where they want them for convenience. Players that wish to take their battle royale experience more seriously may find this to be quite useful, as an improved control arrangement can make it easier for them to access particular instructions more quickly.
Players that prefer to play stealthily might prefer to keep the crouch and sneak buttons closer to the right stick for convenience. Similarly, marksmen would want to have the trigger and ADS buttons very near together so they can engage foes much more quickly.
2. Looting for big hauls
No matter how tempting it may seem, you should never loot when you are seen. Looting exposes you to attack from your foes, especially if the place is exposed. Some enemies may even wait for players to arrive in an open area so they can kill them and take their loot. Make sure you have adequate cover to loot in peace so that you don't fall victim to the techniques. You'll avoid numerous headaches and the need to constantly look over your shoulder by doing. Loot doesn't always justify the trouble.
3. Change Locations Frequently
In a battle royale, it's completely safe to stay put until the fight is over, but it's much preferable to continuously exchanging places to avoid pointless battles. Fortunately, every location in Free Fire has a variety of residences, buildings, and other structures that may typically act as safe havens for players who want to explore their surroundings.
Players should, in general, only linger in one place for a maximum of a half-minute at a time. They should have more than enough time to gather valuables, restore their health, and even reload their weapons in preparation for another battle. If they linger in one place for too long, especially if other teams are preparing an ambush, they could be vulnerable approach in combat compared to others.
4. Avoid attempting claw control
We think that inexperienced players will have more difficulty with claw control than the majority of those who advocate it for playing. Mastering the finger placements necessary for this level might be difficult. Use your thumbs to operate the controls and play the game instead. Your gaming experience will be greatly simplified as a result, and you'll be able to master the game more quickly. Claw control should only be used if you are uncomfortable using your thumbs for gaming.