How To Remove A Remembered Account On Instagram On Mobile, iPhone, PC
How To Remove A Remembered Account On Instagram On Mobile, iPhone, PC? Instagram is constantly searching for ways to improve users' experiences, and remembered accounts are one of those methods. This social media platform makes it incredibly simple for users to enter back into their accounts after logging out the first time by remembering the login information for their Instagram account that was used on their device.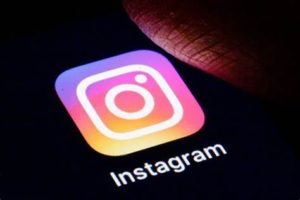 With remembered accounts, your privacy is in danger. This post is for you if you're one of those people who wonders how to successfully delete a remembered account after logging out of the social media platform. We will investigate various strategies for deleting remembered Facebook accounts.
Even if you're logged out when someone launches your Instagram app, they can still access your account by tapping the proceed button and not entering any login information. This makes it possible for nearly anyone with access to your computer or mobile device to quickly enter into your Instagram account after you have already done so
Log Out From All Instagram Accounts
If you have multiple Instagram accounts and are logged into one, but would wish to remove the others from the service. To successfully accomplish this, you can log out of your account. You will be given the chance to log into other accounts when that account is effectively erased from your Instagram app.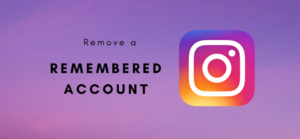 You can remove an account by selecting it from the "login" and "remove" menu options. You can do this for each of the multiple accounts you have open on your Instagram app. You can restart by login into the account of your choice after deleting all the other accounts.
Don't Save Login Information
You should be aware that Instagram does not automatically save your login information. Instagram offers the option to save your login information for quick access the next time you attempt to enter your account on any device, but you can opt-out by following the steps.
Instagram has a "Remove" button right on the home page for Android users. However, how things operate on an iPhone varies slightly. The Instagram Settings menu needs some adjustments.
Let me demonstrate the iPhone's default behaviour to you before we begin. The Instagram home displays your attempt to log out of your account. You can use just one tap to account.
On your iPhone, launch Instagram and sign in to your account.

Tap the hamburger menu in the top right corner of the Account tab.

Go to Settings and select Security. saved login details

Turn off Saved login information by selecting it from the menu below.

Instagram will request confirmation of your choice. From the pop-up option that follows, choose Remove.

To return to the Instagram Settings menu, click the back arrow in the top right corner of the screen.

Select Log out from the current account by scrolling down.

Instagram will ask you if you want to Remember or Forget the details of your current account. Choose Not Now from the pop-up option that follows.

Verify your selection, then hit Log Out.
 You've effectively logged out of your Instagram account without any problems.
Your Instagram data can be deleted from the settings
You can also try wiping the Instagram data from your phone's settings in order to start over.

You must first go to the settings of your mobile device.

Select Apps from the list of alternatives. Depending on the device type and Android version, the apps option may show up in a variety of ways, such as the application manager or apps and notifications.

Scroll down to Instagram in the list of apps and click it.

Your Instagram settings will then appear; select settings from the menu.

To delete all of your Instagram data, click on clean data. Alternatively, this might be described as "clear storage."
Your Instagram password must be changed
Changing passwords is a method that is also useful for deleting remembered accounts. Even while the remembered account may still be accessible through the Instagram app or website, no one else will be able to access the account unless they know the new password.

You must first open the Instagram app or website on your PC or mobile device.

If you're signed in, click on your profile image at the end of the menu bar to go to your profile page.

The hamburger icon is located in the top right corner of your profile page. Click on it.

When a list of options appears, click on the word "settings" that is positioned at the bottom of the list.

This will bring up a brand-new menu with several choices; select security to proceed.

You will be taken to a page where you may change your password by selecting "password" from the options on the page.

Put the new password in the designated space and your current Instagram password in the appropriate spaces.

You're done after saving your settings. Until you enter your new login information on each device, you are effectively logged out of all of them.
Conclusion
Instead of allowing the user to access the account with a single tap, it would be nice to add biometric authentication like Face ID or Touch ID to further reinforce account security.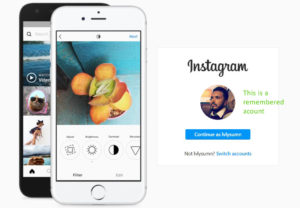 Remove remembered Instagram accounts on other devices by following the directions above. You can also use your iPhone or Mac to recover your Instagram account if it has been compromised.