How To Remove a Remembered Account on Instagram on Mobile, iPhone, PC
Remembered accounts are one of the many ways that Instagram is continually looking for to enhance the user experience. By remembering the Instagram login details that were used on the user's device, this social media site makes it exceedingly easy for users to log back into their accounts after initially logging out.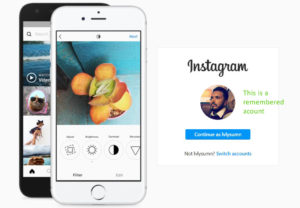 If someone launches your Instagram app while you're signed out, they can still access your account by pressing the proceed button without inputting any login details. This allows almost anyone with access to your computer or mobile device to sign into your Instagram account immediately after you have done so.
Log Out From All Instagram Accounts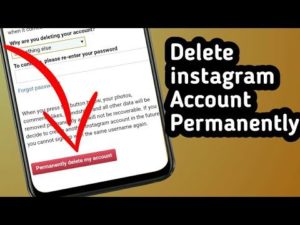 If you are logged into one of your numerology Out From All Instagram Accounts
Ius Instagram accounts but would like to deactivate the others. You can log out of your account to do this successfully. When that account is actually deleted from your Instagram app, you will be offered the option to log into other accounts.
By choosing it from the "login" and "remove" menu options, you can delete an account. You can carry out this action for any open account on your Instagram app. After deleting all the other accounts, you can restart by logging into the account of your choice.
Don't save your login details
For Android users, Instagram has a "Remove" button right on the home page. On an iPhone, things work a little differently. Some changes should be made to the Instagram Settings menu.
Before we get started, allow me to show you how the iPhone operates by default. Your attempt to log out of your account is shown on the Instagram main page. You only need to press once to log in.
Open Instagram on your iPhone and log in to your account.

On the Account tab, click the hamburger menu in the upper right corner.

Select Security under Settings. stored login information

Selecting Saved login information from the menu below will disable it.

Instagram will ask you to confirm your selection. Select Remove from the pop-up menu that appears after that.

In the top right corner of the screen, click the back arrow to return to the Instagram Settings menu.

Scroll down and click Log out from the current account.

If you choose to Remember or Forget the information associated with your current account, Instagram will ask you. From the pop-up menu that appears after, select Not Now.

Check your choice, then click Log Out.
Changing our Instagram password
A technique that works well for eliminating remembered accounts is changing passwords. No one else will be able to access the account unless they know the new password, even if the remembered account may still be accessible through the Instagram app or website.
Open the Instagram app or website on your computer or mobile device first.

To access your profile page if you are logged in, click on your profile image at the end of the menu bar.

On your profile page, the hamburger icon is in the upper right corner. Just click it.

Click on the word "settings" at the bottom of the list of options that displays once you click it.

Select security to continue after a new menu with various options appears.

By choosing "password" from the list of options on the page, you can change your password and be directed to a new page.

Place your current Instagram password and the new password in the corresponding fields.

Once you've saved your settings, you're done. You are essentially logged out of every device until you enter your new login credentials on each one.
You can remove your Instagram data from the settings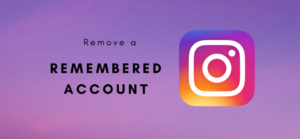 To start fresh, you may also try erasing the Instagram data from your phone's settings.

You must first navigate to your mobile device's settings.

From the list of options, pick Apps. According to the type of equipment and

The apps option on an Android device may appear in a number of places, including the application manager or apps and notifications.

Click Instagram in the list of apps after scrolling down to it.

When your Instagram settings display, choose them from the menu.

Click clean data to remove all of your Instagram data. Alternative terminology for this would be "clear storage."
Conclusion
But instead of allowing the user to access the account with a single tap, it would be fantastic to add biometric authentication like Face ID or Touch ID to further reinforce the account security.
Remove remembered Instagram accounts on other devices by following the directions above. You can also use your iPhone or Mac to recover your Instagram account if it has been compromised.