Social Media- The Big League Gizmo For Today's Youth
What's one thing that comes to mind when we speak of having a group study or accessing any lecture just by sitting at home. Yeah, that's right, a platform wherein we can connect to a lot many people at once or have a virtual discussion. So, here comes the play of social media platforms. The use of social media has achieved a lot of momentum in today's era; every other person has a smartphone in his hand and is connected to a global network.
Like every other thing has two faces, the pros, and the cons. Similarly, use of social media comes with its positives and negatives. There can be end no of methods to use it to become an ideal student.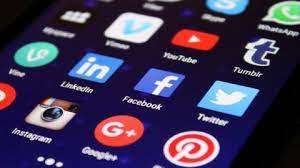 worlds-largest-cricket-stadium/
Use of e-learning websites
Learning has enormously grown due to this technology. The classroom learning methods are widely replaced by e-learning websites. A student can have access to a lot of many sites like NPTEL, udemy, YouTube, hacker rank, qs leap, CodeChef, etc. One can create an account and use the end no. Of courses available at these portals. NPTEL is a platform that allows one to see the video lectures and sharpen up their concepts on topics of their interest.
So, here basically, the students are connecting themselves through social media. And this process of e-learning at times requires someone to connect to their peers that they can efficiently do by the use of social media applications like WhatsApp, Facebook, Instagram, etc. Students can get to know every other competition to be organized in the near future. Various hackathons, quizzes, puzzles are available on these websites. Also, you can have quick access to check your progress by merely appearing for tests that are available at any instant of time according to your needs.
Instagram and Twitter can play a role of crucial aid to students
At times a student may want to have a word with one of their inspirational personality. This they can easily do with the help of Instagram or Twitter. Since having a one to one talk with them is next to impossible, students can contact them using these platforms. For example, a person wanting to thank his/her favorite author can quickly be done through it. 
Instagram also allows a person to digitally spread their stories or graphics in a more appealing manner. One who has a keen interest in writing can take its help to create a widespread of his talent and get love from people at a much broad level.
How Often Should Send Out Newsletters?
Grabbing up an all-around disclosure
There are abounding students who want to learn and get exposure to things happening around in the world. The dishes, flavors, cultures, attires, festivities, and all those things that play an essential role in building up a community's tradition. These students like blogging and getting knowledge about the world. They can acquire these skills by making use of this essential means of communication. They share their ideas about the different cultures from around the globe by making use of a lot many blogging sites like WordPress, Blogspot, etc.…
Opening up to options of higher education
Students grow up with dreams of studying in eminent universities like HARVARD, MIT, and STANFORD, etc. They consider it as one of their bucket list goals to be achieved. Now how to get in touch with these institutions by merely staying back in your own country. This can be done by using social media websites.
One can quickly contact them by mails. They can have a word with the managing authorities of these institutions via letters. Students have the advantage of experiencing a virtual tour of the college before applying. They can get well equipped with things and aids present there. Also, some colleges allow contacting the faculty members too, which at times turns out to be a super good aid.
Research work becomes super easy with social media platforms
Any study without research goes in vain. A student to be perfect in any field must go through thorough research on his topic of interest. Social media sites like quora, careers360, geeks for geeks, etc. provide crisp and clear answers to a person's queries. This makes a person well equipped with the knowledge and improves his credibility as a student.
Employment opportunities
This country is filled with students who want money, and they want to raise money either for their enjoyment or as an aid to the family. A student can easily indulge in internships by continuing with studies side by side by making use of certain websites like Internshala, LinkedIn, and many more. Select one internship or even a job. According to your skills and get set to work in there.
So, a conclusive statement that perfectly follows this "use of social media by students" can be that a student can and will come out with flying colors in his/her life if they use it properly. They can prove themselves to be a credible student very quickly.