Split Removed From Valorant Active Map Pool Pearl is the Replacement
The word "map" is frequently used in multiplayer video games to refer to a location where players face off against one another, and Riot Games' FPS game Valorant is no exception. If we were to relate it to traditional sports, the map in Valorant would be comparable to the soccer field or swimming pool for competitors.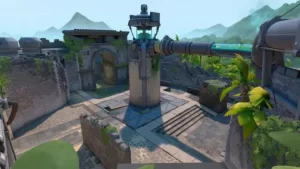 Description
In the 5v5 competitive tactical shooter Valorant, the goal is to win the round while the attackers strive to plant the spike. This game mode has teleportation, ropes, and a variety of fascinating maps. The split saw a significant alteration after being added to the game in Patch 2.01 in January 2021, when the layout was redesigned to be more open. The map was only made better by the revision, and it has since gotten a lot of use.
The split saw a significant alteration after being added to the game in Patch 2.01 in January 2021, when the layout was redesigned to be more open. The map was only made better by the revision, and it has since gotten a lot of use. The split was withdrawn from the Active map pool after two years of service along with the announcement of Pearl in Valorant Patch 5.0. Players won't be allowed to play Split in Unrated or Competitive mode any longer.
Three new maps, Haven, Bind, and Split, as well as Ascent, Icebox, Breeze, Fracture, and Pearl, made their debuts in subsequent updates of Valorant's Beta. There are now eight maps total, up from three previously, and Split is undoubtedly one of the most cherished of them all. A scene from Tokyo, Japan's Shinjuku. Split exemplifies the country's contrasts, with A site appearing futuristic and B reminding one of traditional Japan. This makes the map visually appealing while also making playing the map not too difficult.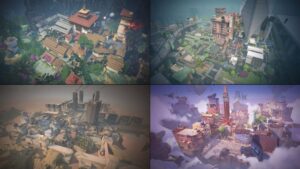 Split is an easy-to-play map. It features an A site, a B site, and a Mid in accordance with conventional map design. The map plays fairly simply and is liked by casual and pros alike. Split is a rather common addition to games. Players would no longer receive Split in Competitive or unrated games, but the map would still be available for other game modes including Replication, Escalation, and Custom games.
An odd number of maps in Professional scenarios makes it simple for Veto, allowing teams to ban and select an equal amount of maps. And Split would leave that location in August 2022 following the LCQs. It should be noted that Split is one of the oldest maps in Valorant and has seen more play than Bind and Haven, even though the decision is rational and was made after consulting the community. The most recent edition, Pearl, is somewhat comparable to Split, therefore removing Bind or Haven is not a vice.
Lansford investigates the auspicious number seven, "One of the most challenging aspects of a tac shooter can be learning a new map. It is more difficult to advance from "learned" to "mastered." You don't have to devote all of your time to researching new lineups, perspectives, and tactics. There will be less difficulty onboarding new players. Additionally, pro teams get playbooks that are richer and more interesting. Gain, gain, gain "Lansford goes on.With the release of Episode 5 on June 22, Split will no longer be available in the Unrated and Competitive queues, but this does not mean that it has come to an end. In addition, the map can still be accessed in different game variants like Spike Rush.
VCT Logistics and Competitive
Until Pearl enters the Competitive queue on July 12, ranked will have a temporary 6-map pool when Episode 5 Act 1 and Patch 5.0 go live on June 22. This is because the undersea, Portuguese map will first be released with a Pearl-only Unrated queue that will let players practice on it, as has been the case with past map debuts in Valorant. After the Last Chance Qualifiers (LCQ) in August, Split will no longer be used as a map in esports competitions for the 2022 Valorous Champions Tour (VCT) slate.
The official map pool for LCQ and Valorant Champions will include Pearl. Check out our 2022 VCT Stage 1: Masters Reykjavk page for additional information about Valorant.
Pros with Courage Share Their Favorite Pistol Round Purchases

The Vandal vs. Phantom Debate is Decided by Valiant Experts

VCTS Pros Describe the most effective map that is powerful

VCTS Pros Tell Me What the Worst Map in Valorous Is
Why was Split taken out of Valorant?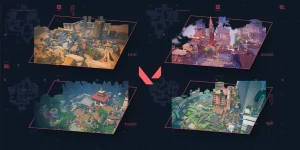 The primary map designer for Valorant, Joe Lansford, has explained the decision and affirmed why it was the best one for the debut of the new map, Pearl. He addressed the gathering once more, saying, "We considered many different factors before making this decision. The strategic variety the map offers, player response, time since the game's release, past and upcoming developments, and Pearl's role in all of that (to name a few).
Since Pearl requires learning a new level in order to play, this will imply that the pool of seven maps will remain the same. The number will make it easier for new players to join the game while still giving players enough time to learn the new lineups, angles, and strategies. The goal is to give new players enough time to become familiar with the agents and maps that are available without overwhelming them with information.
Conclusion
Split's removal was decided upon after careful consideration of numerous variables. The split was the first map to be rotated out of the pool for a variety of factors, according to Lansford, including "player emotion, time since release, past and future planned changes, what the map delivers in terms of strategic diversity, as well as where PEARL sits into all of it."
Lastly, Lansford did mention that they are confident the map will reappear in the future. Without a doubt, in place of a different map, at least Split isn't completely over.