STEPN: Move To Earn App For Crypto Users
 NFT games and play-to-earn titles are terms you're probably familiar with. StepN is the first ever NFT game that is available on Solana. It's a blockchain app that  pays you to move your steps or go for a walk. StepN is an app that pushes you to start walking.
Table of Contents
1.    What is StepN?
2.    What procedure should you follow to get into StepN?
3.    How can you earn money on StepN?
●     Tokens you can use on StepN
●     Factors that influence your earnings
4.    Concluding Remarks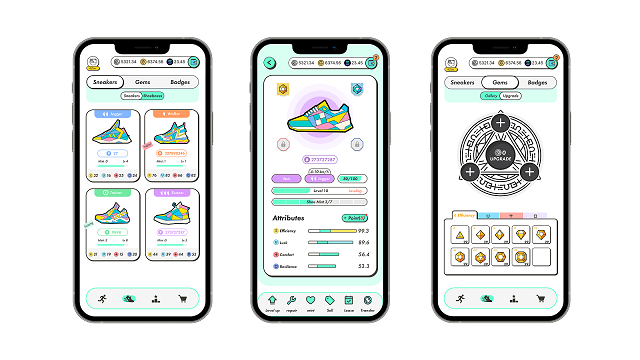 What is StepN?
Stepn is a Web 3.0 wellness app that integrates SocialFi and GameFi features. By being active, you may earn an additional income with this fitness app. You begin earning once you sign up with an app and own or rent an NFT. You can do this outside by walking, jogging, or running. Every day, over and over again. You can earn GST, the game token, or GMT, the governance token, by playing the game.
There are a few limitations, however:
Because the software is still in Public Beta Phase III, things may change. Signing up is currently not possible due to high demand. The number of activation codes available each day is limited to 1000. They can be reached via Discord or Telegram. Every day at 13.00 UCT, the codes renew.
Then you must create a new wallet. You'll get a 12-word seed phrase, which you should save somewhere safe. You'll need to move some SOL to the app because it was created on Solana. Their NFT sneakers are now available to buy.
Additionally, save some SOL in your wallet for gas. The shoe NFTs, on the other hand, have a current floor price of 11.8 SOL. It is worth $1,208 based on the current SOL price.
You can select from four different footwear. Learn from the image below to see which ones they are and what return they each provide. Choose a sneaker that is appropriate for your level of fitness.
What procedure should you follow to get into StepN?
STEPN is a GPS-based game that, like a Fitbit, tracks your activities and steps.
You must first obtain a virtual pair of sneakers before you can begin running. Yes, you may wear these over usual sneakers.The sneakers are  minted NFTs, so you may resell them on the market and possibly profit from getting a better pair. You have minted NFTs, so you may resell them on the market and possibly profit to get a better pair.
Every pair of sneakers is akin to a two-dimensional Pokémon, each with its own collection of qualities and rarities. The metrics influence how long you can run before recharging. They might also provide you a speed bonus, which would allow you to earn more GST while running.
It's so easy for you to purchase sneakers if you have a SOL in your wallet. If not, you can use our Quick Exchange service to get some liquid. You can also import it and spend it in-game, but we recommend creating a new STEPN wallet and transferring your SOL to it.
It should be noted that you must spend SOL on the market but will earn GST while playing the game.
One peculiarity of the STEPN is that product pricing does not always reflect their quality.
We're perplexed by this amount of disparity, but since the game is still in its early phases, it's possible that it'll be resolved soon.
How can you earn money with StepN?
Although you will need sneakers to begin earning, you will not require anything to begin jogging.
New users can get a free trial of the app and all of its features. The earning metre will start filling up while you run once you're ready to commit and have some STEPN sneakers.
Time-gating is not simply the worst aspect of STEPN but also one of the most reviled mechanics in gaming.The amount of time you may use the app on a daily basis is limited, which means your earnings are limited.
You get a tiny quantity of it for free every day, plus some from your sneakers. Although high-quality sneakers provide a lot of energy, there is a daily limit. This is the equivalent of running for 100 minutes. Even if your energy runs out, you can keep running, but the earning meter will stop until the next day.
There is also a speedometer that you must maintain in order to continue earning. This is one of the hardest parts of the game because you have to be in top physical shape every time you run.
Tokens you can use on StepN
There are two tokens for StepN:
GST (Green Santoshi Token): It is a game token and has an infinite amount. It may be earned in both Solo and Background mode. You can use this token to shoe-mint, repair, level up sneakers, enhance gems, and unlock sockets.
GMT (Green metaverse token): It is a governance token. To obtain them, you must have at least 3 energy and be level 30. In the last 24 hours, the price has risen 15.6 percent to $3.29. It increased by 385.6% in the last 30 days.
Furthermore, the market capitalization is just under $2 billion, with 600 million tokens in circulation.
Factors that influence your earnings
Energy
Sneakers
Speed
Gem
Budget
Concluding Remarks:
Currently, Stepn is very popular. As a result, the app is in high demand, and the GMT token is skyrocketing in value. Fitness is something that a lot of people do, just like gaming. It appears that the combination is a win-win scenario. Earn money by improving your fitness. However, there is much more to learn about this programme. It appears to be working well, though.
Additionally, if fresh people keep minting sneakers, the tokenomics and gaming may work out. The cost of the sneakers may be a disadvantage. Finally, there's a chance that renting can help.