Android Keyboard Apps
For many, the standard keyboard used on the device is fine. Finding the best Android keyboard app is one of the most important decisions to make on your smartphone. These affect the speed and accuracy of communicating using the phone. It's important to have a reliable and favourite keyboard, as it can recognize everything you type, from passwords to social security numbers. That's why here's the keyboard that we trust and is most helpful in tweeting, writing, and typing articles in crowded bars.
This is usually either a standard Android keyboard or an OEM keyboard such as Samsung, LG, etc. is. These are not your only options. There are many third-party keyboard apps for Android with all kinds of features.
Some people focus on fun and coordination. Others are focusing on better typing. Some people do both. Recently, Microsoft's SwiftKey and Google's Gboard dominate the market, and most people use one of them. This part of the Play Store is a bit stagnant, so we haven't seen many new additions these days. Fortunately, there are still some good options. Take a look at the best Android keyboards.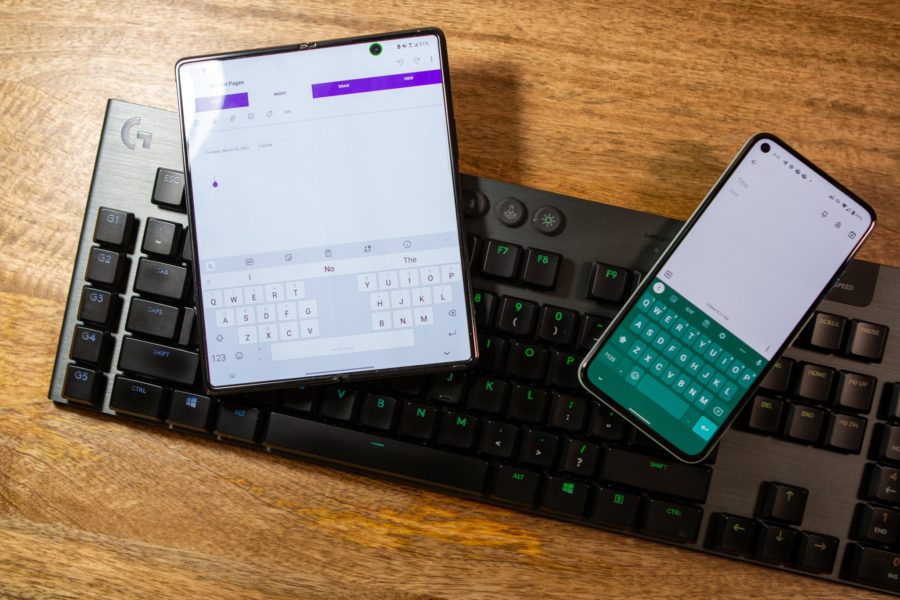 The list of the apps is:
Microsoft SwiftKey
Fleksy Fast + GIF Keyboard
Gboard
Chrooma Keyboard
Grammarly
GO Keyboard
Typewise Keyboard
Facemoji Emoji Keyboard
AnySoft Keyboard
Simple Keyboard
Fonts
Google Handwriting Input
1. Microsoft SwiftKey
There is no doubt that SwiftKey is one of the best keyboard apps for Android to replace native keyboard apps. In 2016, SwiftKey was acquired by Microsoft for a significant amount of money, further improving its credibility.
This Android keyboard app uses artificial intelligence that allows users to automatically learn and predict the next word they want to type. SwiftKey provides autocorrect and gesture input to speed up your input. It intelligently learns and adapts to your typing patterns.
This Android keyboard app is also a stunning emoji keyboard that displays lots of emojis, GIFs, etc. on the table. With keyboard customization, you can choose from hundreds of themes, as well as create your own personal theme.
Overall, SwiftKey can perform much better virtual typing. This free keyboard app for phones is packed with features and can sometimes cause delays.
2. Fleksy Fast + GIF Keyboard
Fleksy Keyboard is considered the fastest keyboard app for Android. It holds the world record twice at typing speed. Fleksy uses next-generation AutoCorrect and gesture controls, so you can type quickly and accurately. The swipe gesture is used to control standard features such as B. Quickly add punctuation, spaces, deletes, and word corrections. The Fleksy is also highly customizable. This app includes over 50 different colourful themes, 3 individual customizable keyboard sizes, over 800 emojis, and GIFs.
In addition, users can create keyboard shortcuts, access navigation applications directly from the keyboard, copy/paste, and easily access a series of numbers. It also supports over 40 different languages. Personally, I like Flesky's all-caps key approach to reducing the chance of typos.
In addition, this third-party Android keyboard app is subject to a strict privacy policy. No personal data will be collected without your consent. In general, Fleksy is another great keyboard app for Android and a great alternative to Gboard.
3. Gboard – The Google Keyboard
Gboard has everything you like about the Google keyboard app, including speed and reliability, gesture input, and voice input. In fact, Gboard is one of the fastest keyboard Android apps on the Google Play store. It comes pre-installed on the Pixel series and many Android One devices.
The Android app is integrated into Google Search. Suggest GIFs and emojis as you type.  You can also send a sticker. You can also create your own stickers if you wish. Users of many Google services will benefit from text prediction. The
Gboard features a minimalist design that perfectly matches Material Design. Additional features include multiple themes, adding a personal photo as keyboard background, voice dictation, phrase prediction, and hand-drawn emoji recognition.
Android's standard keyboard app is also very suitable for multilingual input and supports over 100 different languages. In my opinion, Gboard is the best-undefeated keyboard app for Android in 2021.
4. Chrooma Keyboard
Chrooma is very similar to Google Keyboard but has far more customizable options than Google Keyboard. Here you will find all the important features such as swiping input, resizing the keyboard, predictive input, and auto-correction.
Chrooma has neural action lines to help suggest emojis, numbers, and punctuation. We've also added a night mode feature that allows you to change the hue of your keyboard when activated. You can also set a timer to program the night mode.
This free keyboard app for Android features intelligent artificial intelligence that improves accuracy and context prediction as you type. The nice thing about the
Chrooma keyboard app is the adaptive color mode. NS. It automatically adapts to the colours of the app you're using, making your keyboard look like it's part of the app. However, errors and glitches are more likely to occur, especially in the emoji and GIF sections. Also, the app hasn't been updated since June last year, so developers aren't taking the project seriously.
5. Grammarly
Grammarly is another best keyboard for Android, primarily known for its grammar checker extensions for desktop web browsers. Fortunately, they created an Android keyboard app that can also be used as a grammar checker.
When writing texts to friends, I don't really care about aspects of English grammar, but it's important for professional conversations and emails on smartphones.
In addition to the familiar spelling and grammar checker, I also like the attractive visual design, especially the mint green color theme. If you like a darker user interface, there is also a dark theme option. Overall, it's a simple text messaging app for Android, and you won't be disappointed if you enjoy a lot of professional communication using your smartphone. However, Grammarly replaces some other features that are common to other best keyboard apps for Android.
6. GO Keyboard
If you are looking for the best Android keyboard app, GO keyboard is another great option. The keyboard has a simple and minimalist design and is very practical. It can improve and relax your writing habits.
Among many features, the Go keyboard supports a variety of languages, including languages ​​that do not use Latin letters. It also includes a built-in dictionary that can convey the meaning of any word in any language. The
Go keyboard contains over 1000 different themes, emojis, GIFs, fonts, and more. It also includes a swipe to unlock screen and an app-specific load mode feature. Go Keyboard is free but includes ads and some in-app purchases.
7. Typewise Keyboard
The Typewise Keyboard app for Android was recognized at the CES Innovation Awards 2021 for its innovative keyboard with honeycomb layout. The layout makes it easy for the user to press the appropriate key. According to Typewise, the Hexagon approach reduces typing errors by up to 80%.
Other than that, it has all the features you'd expect from an Android-optimized keyboard, including intuitive gestures and smart autocorrect. The typing app runs locally on the device and does not transfer data over the cloud.
You can also type in multiple languages ​​at the same time without switching keyboards. Overall, Typewise is one of the best Android keyboard apps for 2021.
8. Facemoji Emoji Keyboard
If you want to send cool emoji, Facemoji may be the best emoji keyboard app for your Android phone. There are over 3600 emojis, emojis, GIFs, icons, emoji stickers, and more.
This app focuses on virtual representation, so it has all the emoji-related features needed for the latest keyboard app for Android in 2021. For example, there is an emoji combo that combines multiple emojis with a single tap. Emoji prediction are an add on that works like charm. All trend GIFs and other trends are added frequently.  As the name implies, the best feature of this keyboard app is Facemoji. You can use it to take pictures and create your own emoji. The Gboard app offers higher quality when creating face stickers, but this Android app stands out in that amount.