World's largest cricket stadium – Sardar Patel Stadium (Motera Cricket Stadium)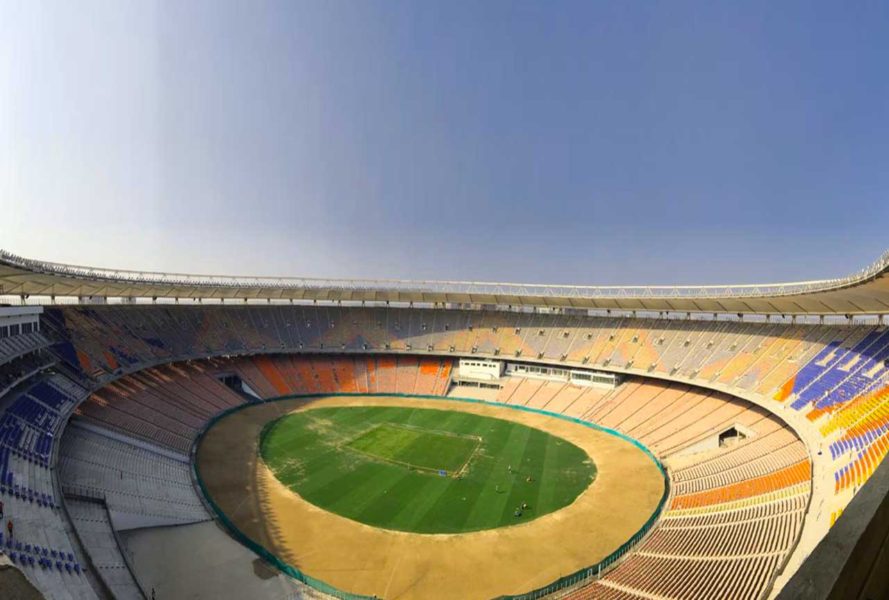 History – Sardar Patel Stadium (Motera Cricket Stadium) world's largest cricket stadium
Sardar Patel Stadium which is commonly called as, Motera Stadium is one of the most recognized cricket stadiums of republic India. It is located in the locality of city of Ahmedabad and Sardar Patel stadium is under the control of by Gujarat cricket association.  It was established with floodlights for day-and-night games and is a regular ground for both of the test cricket and one day internationals. Since its earlier stadium demolition in 2016, it is being reconstructed and 90% of the construction work has been completed. World's largest cricket stadium – Sardar Patel Stadium (Motera Cricket Stadium).
The newly built stadium will be the largest cricket stadium in the world with a visitor seating capacity of  1 lakh spectators will be renovated with the cost $100,000,000 dollars. Earlier the pitch favored seamers and spinners but due to changing nature of the pitch by its environmental aspects it is favorite to the hosts who bat first. As of December 2011, the sardar Patel stadium had played host to 23 one day international matches. In India Kolkata Eden gardens holds maximum record for holding the international matches. 
The stadium had hosted one of the one day international in 2011 world cup. 2011 quarter final match between India and Australia had been hosted by this stadium. The grand opening ceremony of this renowned stadium is planned on united states American president Donald trump visit in India in the month of February. In gratitude the Donald trump expected a count of 70000 visitor attendance on his arrival in India. Sardar Patel Stadium (Motera Cricket Stadium) world's largest cricket stadium
ashoka-stambh-pillars-of-ashoka/
Formerly it is called by the name of as the Gujarat Stadium, the ground was renamed in tribute of Sardar Vallabh Patel who played important role in uniting the princely states with Indian union. For these sincere efforts he was appointed as union home minister of India and as deputy prime minister. Before the Motera Stadium came into existence, international cricket matches in the city were played at municipal corporation stadium at Ahmedabad in the Navrangpura area. In 1982, the government of Gujarat donated a 50-acre stretch of land on the banks of the Sabarmati river for the construction of new stadium in the recognized area of the state.
The construction of the Sardar Patel Stadium was carried out in a span of nine months which was record construction time for any construction in the world. Since then all International cricket matches for the city are hosted here. Later in the 1984–85 during  Australia-India series, this stadium hosted its first ODI, in which Australia defeated India.
Mind blowing facts about Sardar Patel Stadium (Motera Cricket Stadium) world's largest cricket stadium
Sunil Gavaskar who is widely called as sunny became the first cricketer to score 10,000 runs in Test cricket on this recorded ground which is the greatest feat, he achieved against Pakistan in 1987. Seven years later, all-rounder Kapil dev claimed his 432nd Test wicket on this ground to become the highest wicket taker in the world cricket, breaking previous record. Prior to achieving this feat, Kapil Dev took a nine-wicket haul against West Indies at the same Motera ground in 1983 by making this ground as favorite ground for him ever since his debut.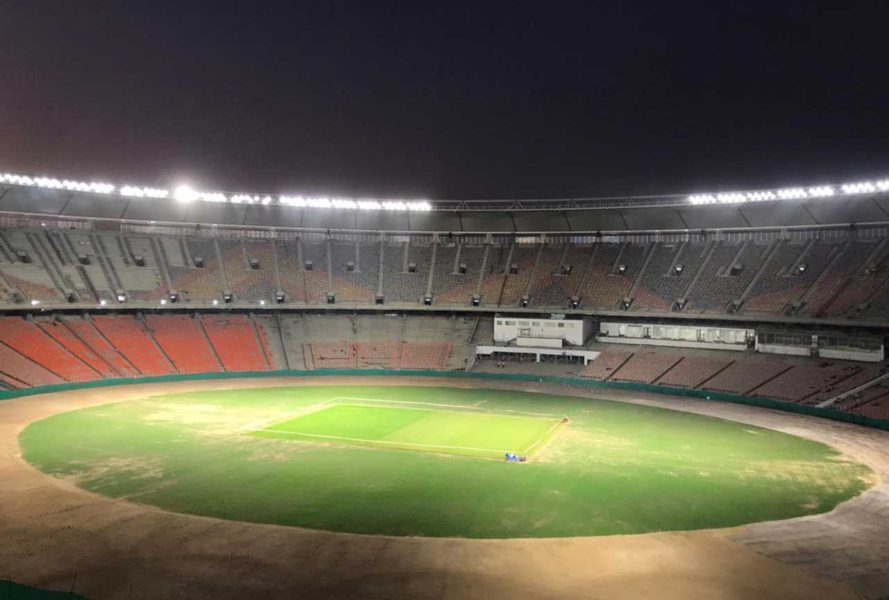 In 1996, the ground hosted a low-scoring Test match against south Africa where the visitors struggled a lot while chasing 170 to win, ending up at 105 all out. Javagal Srinath took six wickets in the fourth innings of the match and played a historic role in winning the game and made greatest victory of all time at this stadium. However, South Africa took revenge when they completely bowled India out for just 76 runs in the first session of the Test match in 2008 and went on to win the match by an innings and 90 runs. Master blaster Sachin Tendulkar became the first-ever cricketer to score 18,000 runs in One Day International cricket, in a match against Australia during 2011 Cricket World Cup at this venue with great determination.
About its construction and inauguration of Sardar Patel Stadium (Motera Cricket Stadium) world's largest cricket stadium
It was reported that, the idea to make the new stadium was proposed by prime minister Narendra Modi, then president of the Gujarat Cricket Association and the Chief Minister of Gujarat. Shortly before Modi moved to Delhi as the Prime Minister of India, there were discussions about minor upgrades to the stadium and development of the structure at the pavilion end. When informed about the Melbourne cricket ground, Modi asked the officials to build a new larger stadium instead of smaller renovation work. The stadium has often been indicated as one of his dream projects and fulfilled it by constructing it in nine months and its inaugural by Donald trump.
After starting the Reconstruction work at the end of 2015, the Gujarat Cricket Association issued tender notice on January 1, 2016 in The Times of India. Out of Nine bidders showed interest and purchased the tender documents, only three submitted Technical and Financial bids on time. The three bidders were the Shapoorji Pallonji Group of Uttar Pradesh, Nagarjuna Construction Company of Karnataka, and Larsen & Toubro, a foreign based origin company. A Tender Commercial Committee (TCC) of nine experts was formed for the evaluation of tenders.
Each of the three bidders presented their designs, models, and technical details of their concepts & designs with in the stipulated time for getting the project in aspirational way to get the renowned project. Because of the recognition and complexity of the project, the bidders were categorized on multiple parameters like efficiency, resources, time frame of completion, ways of implementation, etc. The bidders were ranked and weighted on all of the parameters based on the report submitted by them in earlier proceedings.
 how-doctors-on-earth-treated-a-blood-clot-in-space/
L&T took over the construction work of the stadium in December 2016 to complete as early as possible to prove its efficiency on construction sector. On 16 January 2017, foundation stone was held by Gujarat Cricket Association and work formally started on the ground. It was planned that the construction to br completed in 2 years, and the reconstruction project estimated to cost around ₹ 7 billion rupees. As of September 2019, the stadium is reported to be over 90% complete, and is expected to open by March 2020. But the construction was completed in January 2020 before the target time by creation history in the field of construction.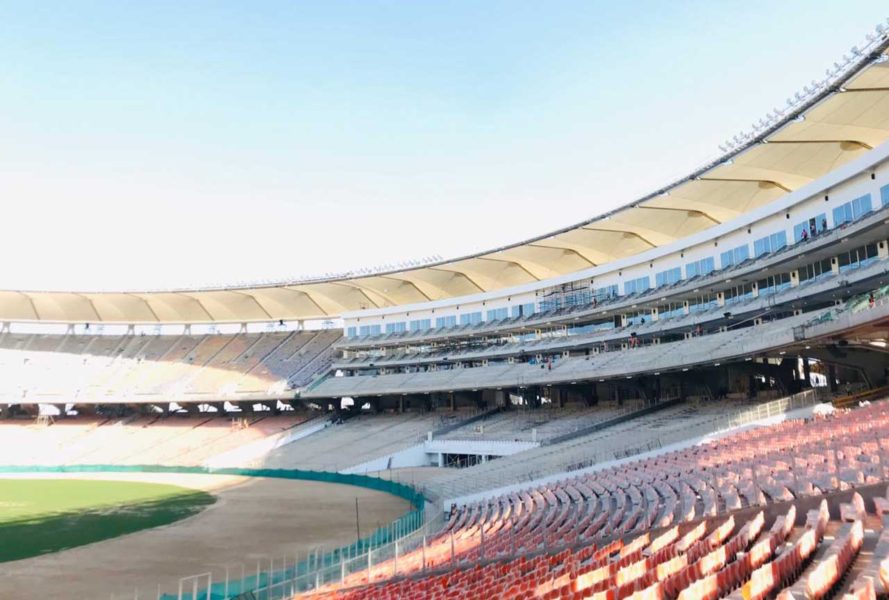 Specifications
The stadium is spread across 63 acres of barren land, with three entry points as opposed to just one in the old stadium as planned earlier. Additionally, it will contain 75 profited boxes with each having capacity of 25, an Olympic sized swimming pool with all features of international standards, and 4 dressing rooms for players and important visitors as well. A unique feature of the stadium will be use of LED lights instead of the usual floodlights at cricket grounds. This will be the first of its kind design in India and remains one among fewer in world. The LED lights will be installed on an anti-bacterial, fire proof canopy with PTFE membrane.
Outside of the main ground, the stadium will be able to serve several other features, like two practice grounds for local and international players, an Olympic sized swimming pool, indoor practice pitches, badminton and tennis courts to promote harmony among other games like squash arena, table tennis , 3D projector theatre for inaugural functions  and a clubhouse with 55 rooms for residence of local players. Additionally, the parking will be enhanced to accommodate 3,000 cars and 10,000 two-wheelers to provide traffic alternatives for huge crowed gathering there. The Motera Stadium will have a huge ramp  to facilitate movement of around 60,000 people simultaneously, and will also get a "Sky-walk", allowing the crowd to directly enter the  main stadium within 300 meters.  
Review
It is mainly seen as prime minister Narendra modii's MAKE IN INDIA project. Invitation of Donald trump by clearly makes it special and gathers international attention with his presence. Since it holds divergent area which support huge crowd makes its exception among various other stadiums around the country. Hope you like our article, Sardar Patel Stadium (Motera Cricket Stadium) world's largest cricket stadium, please leave your valuable comments below.
The top 10 Best Hair Straighteners Any clothing, whether formal, semi-western, or ethnic, can be worn with straight hair. Although some ladies have naturally straight hair, others, like myself, wish they could display silky, flowing, straight hair. The good news is...